Sales,Specials,News  

19939 Yarrowsburg Road, Knoxville MD  21758
Check Out Our Latest Addition: Midnight Marvel Rose Mallow
We have been waiting for this one since last year and finally have it.  Midnight Marvel is a true hardy hibiscus for the perennial border.  Give it some space as it reaches a rounded height of around 4 feet.
40 Plants Available.  1 gallon $6.00
Sun-Part Sun
Grows to 4'
Blooms Mid-summer to Fall
Deer resistant too
July Plant of the Month- Purple Coneflower
Purple Coneflower is a long-time favorite and loved by pollinators and birds. Coming into bloom in summer and blooming for serveral months.  Flowers are great used as cut flowers too.
Grows 2-3' depending on variety
Full sun
Summer bloom
Attracts pollinators and hummingbirds
Good cut flower
June Plant of the Month:  GAILLARDIA 'KOBOLD'
With one of the longest blooming periods of any perennial, Kobold Gaillardia deserves a place in anyone's sunny garden or decorative pot.
All VIP Members are welcome to come and pick up their complimentary Gaillardia now.
Grows 12-15" tall
Full sun
Well-drained
Blooms May-Frost
Deer resistant
Waiting for you today.
NOW OPEN SUNDAY!
We've decided to be open Sunday for your convenience.  
Hours for Sunday are like Saturday; Noon till 6:00pm.
NEW HOURS
New Spring-Summer Hours
Now that Covid has become less prevalent, we have expanded our hours.  New hours :
Monday-Friday:  1pm till 7pm.
Saturday & Sunday: Noon till 6pm
If our hours are problematic for you, please contact me to set up an appointment.  I will do my best to accommodate you, but can't guarantee it.  Thank you.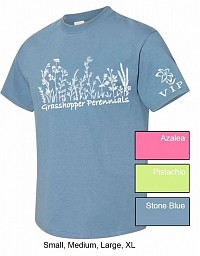 FREE T-Shirt with VIP Membership; can also be purchased without VIP sleeve graphic by anyone though for $15.00
VIP MEMBERSHIP IS NOW AVAILABLE
Join the VIP and be ready for some extra perks with us.  You will receive a free Plant of the month for each month starting in March and continuing through December.
You will also receive the free Grasshopper VIP T-shirt to let everyone know that you belong to our elite group!
Additionally, any VIP has anytime access to Annie (me) for all plant and horticultural related questions.
Check out the VIP page to see what plants will be waiting for you and to sign up.  Cost is only $30.00 per year.
Tangerine Dream Pepper
Veggies Are Ready
The tomatoes and peppers have put on a burst of growth since we've had some real sunshine this past week.  
They are now ready for your gardens or containers.
I will be updating availabilities as each variety is put outside on the benches.
Joseph Hill Azalea photo Carol's Collectibles
Rhododendrons & Azaleas Coming Soon
The Joseph Hill Azalea is one of my favorites.  I had them in stock for many years and then sold all but one.  The last one I was keeping for myself and placed it in the greenhouse to overwinter.
Then, I forgot about it and poor Joseph died from lack of water.  I was so upset...I had him for about 10 years... 
Joseph Hill is a unique evergreen azalea for a couple of reasons:  It is  smaller growing, almost groundcover-like in its habit and is well suited to containers like hanging baskets.  Joseph puts on a beautiful show later in the season, AFTER most other azaleas are done blooming.
Azaleas in general, seem to be able to take more abuse than most people think if you meet certain criteria.  Plant them shallow, don't overwater, and don't place in blazing sun.  I have had azaleas overwinter even out of the pots, just laying on the ground.  They are quite forgiving as long as the criteria mentioned is followed and Joseph Hill is no exception.
I had gotten my original Joseph Hill cuttings from a nursery in Oregon. Van Veen Nursery is one of the few propagators of Joseph Hill.  I had lost contact with them for awhile, but this year, I tried to reach them again, and I succeeded.  So, now we are going to be getting a new supply of not only Joseph Hill cuttings, but several other Rhododendron and Azalea varieties.  I am so looking forward to their arrival hopefully by Mother's Day.
So....we will be having Rhodes and Azaleas for sale again, once these babies are in and growing...stay tuned.