METEOROLOGICAL SPRING STARTS MARCH 1st    

19939 Yarrowsburg Road, Knoxville MD  21758  571-283-3163
Getting Ready To Open!
Loading the benches and getting ready to start the 2023 season.
Finishing up the Butterfly House
Phlox subulata (Moss Phlox)
MARCH PLANT OF THE MONTH
Phlox subulata (Moss Phlox) is our first Perennial Plant of the Month for 2023
This evergreen native is used as a groundcover in sunny, dry areas.  Long lived and very hardy, moss phlox provides a carpet of bloom every spring for about 6 weeks.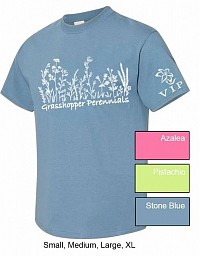 FREE T-Shirt with VIP Membership; can also be purchased without VIP sleeve graphic by anyone though for $15.00
VIP MEMBERSHIP IS NOW AVAILABLE
Join the VIP and be ready for some extra perks with us.  You will receive a free Plant of the month for each month starting in March and continuing through November.
You will also receive the  Grasshopper VIP T-shirt to let everyone know that you belong to our elite group!
Additionally, any VIP has anytime access to Annie (me) for all plant and horticultural related questions.
Check out the VIP page to see what plants will be waiting for you and to sign up.  Cost is only $45.00 per year.
Seed Starting Has Begun
Annuals and perennials are coming up in their seedling flats.  The season is firing up!