NOVEMBER 19 WILL BE OUR LAST DAY  FOR BEING OPEN REGULAR HOURS FOR THE SEASON.  
October Plant of the Month: Native Aster
Native asters are not only a visual delight but also serve as crucial lifelines for pollinators. By incorporating different species of asters into our gardens, meadows, and natural areas, we can create vibrant habitats that support a diverse range of bees, butterflies, and other beneficial insects. These asters offer abundant nectar and pollen, ensuring the survival of pollinators and contributing to the overall health of ecosystems. So, let's embrace these native beauties and help safeguard our pollinators for generations to come.
Blue Mist Flower
September Plant of the Month
Conoclinium, commonly known as Blue Mist flower, is a captivating perennial plant that is widely used in native plantings. With its delicate beauty and numerous ecological benefits, it has become a favorite among gardeners and landscapers.
Blue Mist flowers are characterized by their clusters of small, fluffy, powder-blue flowers that form at the top of tall, slender stems. Their vibrant color and airy appearance make them an excellent choice for adding visual interest and a touch of elegance to native gardens and natural landscapes.
One of the key advantages of incorporating Blue Mist flowers into native plantings is their ability to attract pollinators. Bees, butterflies, and other beneficial insects are highly attracted to the nectar-rich blooms, making it an essential plant for supporting local ecosystems and promoting biodiversity.
Blue Mist flowers are also well-suited for erosion control and soil stabilization. Their extensive root systems help prevent soil erosion and improve soil structure, making them valuable additions to slopes, banks, and areas prone to erosion.
Furthermore, Blue Mist flowers are relatively low-maintenance and drought-tolerant once established. They thrive in full sun to partial shade and are adaptable to a wide range of soil conditions, making them versatile for a variety of garden settings.
In summary, Blue Mist flower (conoclinium) is a stunning native plant that adds beauty, ecological value, and versatility to native plantings. Its enchanting blue flowers, pollinator-attracting qualities, erosion control abilities, and low-maintenance nature make it an excellent choice for creating sustainable and visually appealing landscapes.
Big Blue Lobelia
August VIP Plant of the Month
Lobelia siphilitica, the Big Blue Lobelia is coming into bloom now and is our August VIP plant of the month.
Growing between 2-3' tall, this versatile native plant can tolerate sun or shade and wet or dry soil.
The bloom period is August to October and Blue lobelia is an important late season pollinator plant. Hummingbirds, Monarch butterflies, and other pollinators are attracted to lobelia flowers.  Lobelia will reseed where happy as well.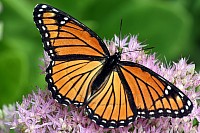 Its Butterfly Season
🌼 Embrace the Magic of Monarchs! 
Get ready for a mesmerizing experience with nature's delicate wonders? We're thrilled to announce that once again, our garden center is hosting an enchanting butterfly raising extravaganza! You will get to witness the captivating beauty of Monarch butterflies as they grace Grasshopper Perennials once again.
🦋 Raise Monarchs with Us! 🦋
Join us in our mission to protect these magnificent creatures by participating in our Monarch butterfly raising program. Discover the joy of nurturing Monarch caterpillars as they transform into breathtaking butterflies right before your eyes. Witness the incredible life cycle unfold from egg to caterpillar, chrysalis, and finally, the emergence of a fully-fledged Monarch butterfly.
If you wish to bring the magic of butterflies to your own backyard? Our garden center  now offers Butterfly Habitat Kits.  Each kit comes with  all the essentials you need to raise healthy butterflies including a carrier, a habitat, and instructions.  All you need to add is milkweed, (which we carry), and eggs or caterpillars which you can hunt for yourself or get from us if we have some to share.
🌸 Join the Butterfly Movement! 🌸
Promote biodiversity, educate your loved ones, and contribute to conservation efforts by joining our butterfly movement. Attracting butterflies to your garden helps support a diverse ecosystem, benefiting other pollinators and wildlife. Engage your family and friends with the mesmerizing transformation of caterpillars into butterflies, fostering a deeper connection to nature. Together, we can make a difference!
🌺 Visit Us Today and Let the Magic Begin! 🌺
Agastache 'Blue Fortune'
JULY PLANT OF THE MONTH
Agastache Blue Fortune, also known as Anise Hyssop, is a must-have in flower beds due to its stunning appearance, pollinator-friendly nature, and deer resistance. This native North American perennial plant features tall spikes of vibrant, deep blue-purple flowers that create a striking visual impact. Its bushy habit and aromatic green foliage add texture and interest to the garden. 
A notable advantage of Agastache Blue Fortune is its resistance to deer browsing. Deer tend to avoid this plant, making it an excellent choice for gardens located in areas with high deer populations. This resistance allows the plant to thrive without the need for additional protection measures, ensuring its beauty remains intact.
In addition to being deer resistant, Agastache Blue Fortune attracts pollinators such as bees, butterflies, and hummingbirds with its nectar-rich flowers. The long flowering season provides a continuous food source for these beneficial insects, while the plant's drought tolerance and adaptability to different soil conditions make it a low-maintenance and hardy addition to any flower bed.
In summary, Agastache Blue Fortune is a must-have plant due to its attractive appearance, pollinator-friendly nature, and resistance to deer browsing. Its stunning flowers, ability to attract beneficial insects, and adaptability make it a valuable asset in flower beds, ensuring both aesthetic appeal and ecological benefits.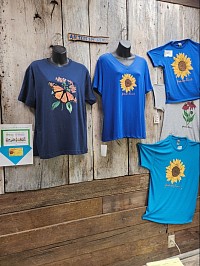 New Shirts Available
Check Out Our New Butterfly Shirts
We've just introduced our much anticipated Monarch Butterfly Shirts.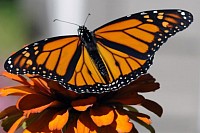 June is Pollinator Month!
June being pollinator month is a great opportunity to raise awareness about the importance of pollinators and their role in maintaining a healthy ecosystem. Pollinators such as bees, butterflies, and hummingbirds play a crucial role in pollinating plants, which in turn provide food and habitat for other animals. However, pollinators are facing numerous threats such as habitat loss, pesticide use, and climate change. By dedicating a month to celebrating and protecting pollinators, we can educate people about their importance and encourage actions to support their conservation.
June Plant of the Month: Baptisia australis
Baptisia australis, also known as blue wild indigo, is a beautiful and versatile plant that can serve as a valuable addition to any garden or landscape. As your plant of the month, it's worth noting that Baptisia australis is not only aesthetically pleasing but also beneficial to the environment. It serves as a host plant for various butterfly species, including the at-risk frosted elfin butterfly, whose population has been declining due to habitat loss and other factors. By including Baptisia australis in your garden, you are not only providing a source of food and habitat for the frosted elfin but also contributing to the conservation of this important pollinator species.
Achillea m. Cassis
MAY'S PLANT OF THE MONTH
This month's choice is Yarrow (Achillea) We have several varieties to choose from including Moonshine, which is a tall,silverey-leaved yellow, Paprika, a shorter red fading to peach, and Cassis, a seed grown red.  Also, in a few weeks we will have the white pearl variety.
Yarrow is loved by pollinators, and is a host plant for the Painted Lady Butterfly.  Yarrow is  also low maintenance,  deer resistant, has a long season of bloom,and  tolerates some drought.  Some people use yarrow medicinally too.
NEW MAY HOURS: Monday -Sunday Noon till 6pm
May is finally here.  Warm days, cool nights, and even rainfall will bring perennials into rapid lush growth.
We can still get some chilly nights though so don't completely let your guard down just yet.
The azaleas have been spectacular this year. I don't think I have ever seen this azalea so glorious.
The Glory of May
Aquilegia canadensis
APRIL PLANT OF THE MONTH
A favorite of everyone, including the hummingbirds, our Eastern columbine begins blooming in April and continues into July.  
Plant this columbine in partial shade and limey soil,  and you will be rewarded with a gazillion seedlings for years to come.
Phlox subulata (Moss Phlox)
MARCH PLANT OF THE MONTH
Phlox subulata (Moss Phlox) is our first Perennial Plant of the Month for 2023
This evergreen native is used as a groundcover in sunny, dry areas.  Long lived and very hardy, moss phlox provides a carpet of bloom every spring for about 6 weeks.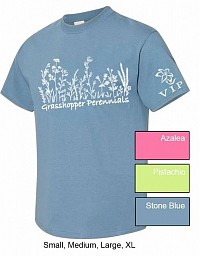 FREE T-Shirt with VIP Membership; can also be purchased without VIP sleeve graphic by anyone though for $15.00
VIP MEMBERSHIP IS NOW AVAILABLE
Join the VIP and be ready for some extra perks with us.  You will receive a free Plant of the month for each month starting in March and continuing through November.
You will also receive the  Grasshopper VIP T-shirt to let everyone know that you belong to our elite group!
Additionally, any VIP has anytime access to Annie (me) for all plant and horticultural related questions.
Check out the VIP page to see what plants will be waiting for you and to sign up.  Cost is only $45.00 per year.
Nanking Cherry
A Tough Cherry Good For Wildlife
The Nanking cherry, though not native is still worthy of a place in the wildlife garden.  These bushes reach around 10' tall.  The attractive flowers produce sweet-tart cherries in the summer which are loved by birds and humans.
Two plants are required for pollination and should be placed in full sun.
Nanking cherries are drought tolerant and cold hardy down to zone 2.  
These are available now in 2 gallon pots for $8.50 each.