Sales,Specials,News  

19939 Yarrowsburg Road, Knoxville MD  21758
NO REGULAR HOURS NOW TILL MARCH.  IF YOU'D LIKE TO VISIT, PLEASE CALL OR EMAIL
We are now closed for the season.  We will reopen sometime in April depending on the weather.
We will be busy getting ready for the spring.  
If you have any requests please let us know.
Our Facebook group will be active through the winter too
Showy Solidago
NOVEMBER PLANT OF THE MONTH
Our November plant of the month is Showy Goldenrod Solidago speciosa.
This late blooming native reaches 3 feet tall and attracts lots of pollinators.
Place this plant in a sunny to slightly shady area and watch for its blooms in September,October, and November.
Toadlily for Fall Blooming
OCTOBER PERENNIAL PLANT OF THE MONTH
Our October Perennial Plant of the Month is Trycyrtis (Toadlily)
A great fall addition to your perennial bed.  
Toadlily is often called the Poor Man's Orchid because it does kind of resemble orchids when in bloom.
Site these plants in dappled shade or morning sun and they will provide a great fall show for you.
ASTER 'Professor Kippenburg' Ready Now
SEPTEMBER PLANT OF THE MONTH
For our September Plant of the Month, I've chosen the Asters of which we have several. VIP members, for their free plant, may choose  any of the Aster varieties that are  available.
Professor Kippenburg is  beautiful, compact, fall blooming ,and covered with medium blue-colored blooms. 
Full sun -part sun
Keep evenly moist
Fall bloom
Attracts pollinators 
Available Now in 1 gallon $5
Lobelia siphilitica
August Plant of the Month Lobelia siphilitica (Big Blue Lobelia)
Big Blue Lobelia is a wonderful native perennial, reaching anywhere from 2-4' tall.  These plants come into bloom in August and are loved by pollinators and hummingbirds.
Big Blue is a very adaptable plant and you can find them growing in sun or shade, wet or dry.
Once established, this Lobelia will increase in numbers and can eventually form a pretty impressive stand.
Available now for $5.00 
Hibiscus m. 'Midnight Marvel' Impressive and Eye catching Available Now $6.00
Check Out Our Latest Addition: Midnight Marvel Rose Mallow
We have been waiting for this one since last year and finally have it.  Midnight Marvel is a true hardy hibiscus for the perennial border.  Give it some space as it reaches a rounded height of around 4 feet.
40 Plants Available.  1 gallon $6.00
Sun-Part Sun
Grows to 4'
Blooms Mid-summer to Fall
Deer resistant too
Echinacea p. Purple Coneflower $5.00
July Plant of the Month- Purple Coneflower
Purple Coneflower is a long-time favorite and loved by pollinators and birds. Coming into bloom in summer and blooming for serveral months.  Flowers are great used as cut flowers too.
Grows 2-3' depending on variety
Full sun
Summer bloom
Attracts pollinators and hummingbirds
Good cut flower
Gaillardia 'Kobold' also knows as Goblin
June Plant of the Month:  GAILLARDIA 'KOBOLD'
With one of the longest blooming periods of any perennial, Kobold Gaillardia deserves a place in anyone's sunny garden or decorative pot.
All VIP Members are welcome to come and pick up their complimentary Gaillardia now.
Grows 12-15" tall
Full sun
Well-drained
Blooms May-Frost
Deer resistant
Waiting for you today.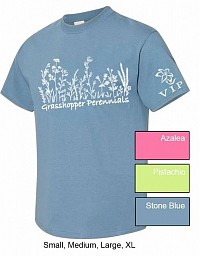 FREE T-Shirt with VIP Membership; can also be purchased without VIP sleeve graphic by anyone though for $15.00
VIP MEMBERSHIP IS NOW AVAILABLE
Join the VIP and be ready for some extra perks with us.  You will receive a free Plant of the month for each month starting in March and continuing through December.
You will also receive the free Grasshopper VIP T-shirt to let everyone know that you belong to our elite group!
Additionally, any VIP has anytime access to Annie (me) for all plant and horticultural related questions.
Check out the VIP page to see what plants will be waiting for you and to sign up.  Cost is only $30.00 per year.