Sales,Specials,News         

19939 Yarrowsburg Road, Knoxville MD  21758
HOURS: WE WILL BE OPEN MONDAY -SUNDAY UNTIL SEPTEMBER 1ST.  
HOURS WILL REMAIN:
 12:OO TILL 6PM
During Heat Waves You Can Request to Come Earlier
Starting in September, we will be closing at 5pm.  We will also be closed on Mondays in September.
Lobelia cardinalis
August Plant of the Month
August is when some of our most beautiful native  flowers come into bloom.  One of the most beautiful and sought after natives is the Cardinal Flower (Lobelia cardinalis).  Along with it's Blue relative (Lobelia siphilitica), these flowers are a must for gardeners and pollinators alike.
Growing to 4' or more when happily placed, Cardinal flower requires a very moist, partially sunny environment. Once established, your plot of Lobelia will increase each year due to the gazillion dust like seeds that get scattered about after blooming. 
Cardinal flower is loved by butterflies, bees, and especially hummingbirds, who are attracted to the blood red spires. Blooming begins late July and can continue through September.
The Cardinal flower's relative, the Big Blue Lobelia(Lobelia siphilitica) requires slightly different conditions from its red cousin. Blue Lobelia tolerates more dryness and will happily grow in sun or shade.  The blue is a reseeder like the red, but its not quite as prolific, though it is no slouch by any means.
All VIP club members receive one free Plant of the Month from March through November. 
JULY Plant of the Month
Echinacea (Purple Cone 🌼)
Blooming from June and continuing through the fall, Echinacea deserves a spot in everyone's perennial garden.
Grows to 15" to 3' depending on variety
Sun
Attracts pollinators
Deer resistant
Great cut flower
Native
Woodland Phlox
March, April,May,June, and July Plants of the Month: Woodland Phlox, Creeping Polemonium, Paprika Yarrow, Gaillardia,and Echinacea
Woodland Phlox is a native that thrives in partial sun with evenly moist soil. Low growing and highly fragrant, Woodland Phlox (Phlox divaricata) is available now at the nursery.
Creeping Polemonium, does best in morning sun.  Reaching a height of about 12 inches, this native blooms with delicate blue bell like flowers from  April through early summer.
Paprika Yarrow, reaches 18" tall, requires full sun, and blooms from May to September if you deadhead. Yarrow is highly attractive to pollinators, drought tolerant, and critter resistant.
Gaillardia needs full sun and good drainage to perform its best.  One of the earliest bloomers too, Gaillardia can start blooming in May and continues till hard frost.  Gaillardias are available in bright colors of red, yellow, peach and bicolor.  Also called Mexican Blanket flower, Gaillardia always lights up a bed with its glowing blooms.
VIP members get these plants for free as part of their plant of the month benefit.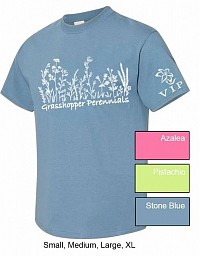 FREE T-Shirt with VIP Membership; can also be purchased without VIP sleeve graphic by anyone though for $15.00
VIP MEMBERSHIP IS NOW AVAILABLE
Join the VIP and be ready for some extra perks with us.  You will receive a free Plant of the month for each month starting in March and continuing through December.
You will also receive the free Grasshopper VIP T-shirt to let everyone know that you belong to our elite group!
Additionally, any VIP has anytime access to Annie (me) for all plant and horticultural related questions.
Check out the VIP page to see what plants will be waiting for you and to sign up.  Cost is only $45.00 per year.