Sales,Specials,News         

19939 Yarrowsburg Road, Knoxville MD  21758
STARTING MAY 16TH WE WILL BE CLOSED ON MONDAYS
HOURS WILL CHANGE TO:
TUESDAY - SUNDAY:  11:OO TILL 6PM
Open For The Season
Though we are still loading benches in between raindrops and chilly weather, we have now opened the nursery for the season.

Those of you that are participating in our VIP Plant Group may now come and pick up your plants of the month for March, April, & May.   
You are still welcome to order online if you like too.
Woodland Phlox
March Plant of the Month: Woodland Phlox
This native thrives in partial sun with evenly moist soul. Low growing and highly fragrant, Woodland Phlox (Phlox divaricata) is available now at the nursery.
VIP members get this plant for free as part of their plant of the month benefit.
New Greenhouse Going Up
Meteorological Spring Has Sprung
Yep it's official... Spring is in the air.  We are seeing Robins all over the place, daffodils showing color, buds on trees, and moderating temperatures all show that winter is on it's way out.  
Perennials are awakening so we will be setting up benches this week and next.
We still have lots of seed starting to do too, but we have already ordered some new perennials babies for delivery in April.
We  have lots of work to do before opening for the season: We are building a brand new 10 x 12 Insulated greenhouse for seed starting too.
Weather will determine when we officially open.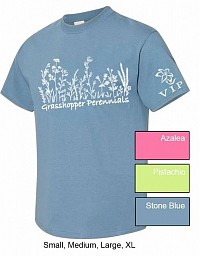 FREE T-Shirt with VIP Membership; can also be purchased without VIP sleeve graphic by anyone though for $15.00
VIP MEMBERSHIP IS NOW AVAILABLE
Join the VIP and be ready for some extra perks with us.  You will receive a free Plant of the month for each month starting in March and continuing through December.
You will also receive the free Grasshopper VIP T-shirt to let everyone know that you belong to our elite group!
Additionally, any VIP has anytime access to Annie (me) for all plant and horticultural related questions.
Check out the VIP page to see what plants will be waiting for you and to sign up.  Cost is only $45.00 per year.