NOW OPEN TILL 6 PM


19939 Yarrowsburg Road, Knoxville MD  21758  571-283-3163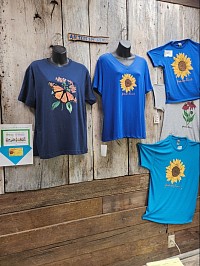 New Shirts Available
Check Out Our New Butterfly Shirts
We've just introduced our much anticipated Monarch Butterfly Shirts.
NEW MAY HOURS: Monday -Sunday Noon till 6pm
May is finally here.  Warm days, cool nights, and even rainfall will bring perennials into rapid lush growth.
We can still get some chilly nights though so don't completely let your guard down just yet.
The azaleas have been spectacular this year. I don't think I have ever seen this azalea so glorious.
The Glory of May
Achillea m. Cassis
MAY'S PLANT OF THE MONTH
This month's choice is Yarrow (Achillea) We have several varieties to choose from including Moonshine, which is a tall,silverey-leaved yellow, Paprika, a shorter red fading to peach, and Cassis, a seed grown red.  Also, in a few weeks we will have the white pearl variety.
Yarrow is loved by pollinators, and is a host plant for the Painted Lady Butterfly.  Yarrow is  also low maintenance,  deer resistant, has a long season of bloom,and  tolerates some drought.  Some people use yarrow medicinally too.
Aquilegia canadensis
APRIL PLANT OF THE MONTH
A favorite of everyone, including the hummingbirds, our Eastern columbine begins blooming in April and continues into July.  
Plant this columbine in partial shade and limey soil,  and you will be rewarded with a gazillion seedlings for years to come.
Phlox subulata (Moss Phlox)
MARCH PLANT OF THE MONTH
Phlox subulata (Moss Phlox) is our first Perennial Plant of the Month for 2023
This evergreen native is used as a groundcover in sunny, dry areas.  Long lived and very hardy, moss phlox provides a carpet of bloom every spring for about 6 weeks.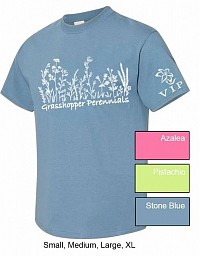 FREE T-Shirt with VIP Membership; can also be purchased without VIP sleeve graphic by anyone though for $15.00
VIP MEMBERSHIP IS NOW AVAILABLE
Join the VIP and be ready for some extra perks with us.  You will receive a free Plant of the month for each month starting in March and continuing through November.
You will also receive the  Grasshopper VIP T-shirt to let everyone know that you belong to our elite group!
Additionally, any VIP has anytime access to Annie (me) for all plant and horticultural related questions.
Check out the VIP page to see what plants will be waiting for you and to sign up.  Cost is only $45.00 per year.
Nanking Cherry
A Tough Cherry Good For Wildlife
The Nanking cherry, though not native is still worthy of a place in the wildlife garden.  These bushes reach around 10' tall.  The attractive flowers produce sweet-tart cherries in the summer which are loved by birds and humans.
Two plants are required for pollination and should be placed in full sun.
Nanking cherries are drought tolerant and cold hardy down to zone 2.  
These are available now in 2 gallon pots for $8.50 each.