About the Nursery  NEW HOURS 1-7 M-F  Saturday-noon-6pm  Sunday-closed
Our Season Begins When Mother Nature Says So
WE ARE OPEN FOR BUSINESS!.  This year, we are having a warm spring so far, but we can have frost all the way to Mother's Day.     
We are also still dealing with Covid, though we will have had our vaccines   Masks are still required in the garden center.
Last year our system of purchasing online and picking up in the parking lot worked out really well, and this year is starting out good too.  We welcome you to purchase your plants online.   If you wish to come to the nursery, it will still be by appointment to make sure that we do not get too many people at one time.   We thank you for understanding.  Soon, we will be back to normal...so just a little while longer please.
HOURS: M-F: 1:00-7:00pm
Saturday & Sunday: noon-6pm
ALL OTHER TIMES BY APPOINTMENT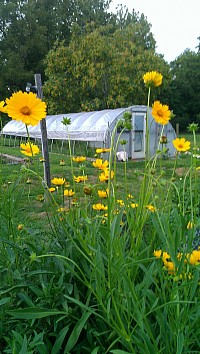 Perennial plants in the greenhouse
Doing What We Love
We have been growing plants for over 35 years, originally getting our start in Pittsburgh, Pa.  We began operations in the beautiful Pleasant Valley area of  Maryland in 2005.
All plants are grown in our modest greenhouses and you will find over 300 varieties to choose from.
Perennials are our mainstay, but we also grow some popular annuals, vegetables, herbs, and house plants as well.
Annie is our horticulturist and perennial expert, with a degree in Greenhouse Production & Growing.  She is on site to assist you with questions or your choices.
We do prefer that customers make an appointment to visit the nursery since this is our home as well. 
CURRENTLY, DUE TO COVID-19, We ask that you shop from our website and pick up your plants in our parking lot.  If you really need to shop in person, please make an appointment.  Once the Covid virus is out of our hair, we will resume normal operation.