My Perennial Thoughts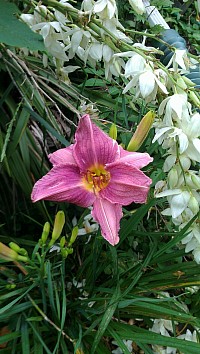 Normalcy During Covid-19
I'd say most of us are pretty aware of the global pandemic, if you aren't or are in denial, then, please pay attention.
This thing is no joke, but we are still trying to maintain a sense of normalcy in the nursery.  The plants don't know that we are dealing with Covid-19 and they still need to be started and cared for regardless of our problems.
So with that said, we are still working, still starting plants, and still offering plants for sale.  But we have changed a bit.
We are now only doing virtual selling.  We can walk you through the nursery via messenger or a similar app, or you can contact us and request plants.  Then we will send photos of the plants if we have them.  You can pick which ones you'd like and then we either put them aside for you to pick up in our parking lot, or we can deliver if you purchase $15.00 or more and are within 15 miles of the nursery.